Updates from July
At London Family Planning Summit, Global Leaders Pledge to Provide 120 Million Women with Access to Family Planning by 2020 — On July 11th the government of the United Kingdom and the Bill & Melinda Gates Foundation together with the United Nations Population Fund and partners hosted a groundbreaking summit, in support of Every Woman Every Child, to provide an additional 120 million women in the world's poorest countries with lifesaving contraceptives, information, and services by 2020. PMNCH, in collaboration with the Innovation Working Group and the United Nations Foundation hosted a parallel session during the Summit to highlight the role of the private sector with a special focus on advancing this agenda. For more on the Family Planning Summit, visit the microsite, download the outcome document, or read the press release. The full list of commitments generated will be available soon at everywomaneverychild.org.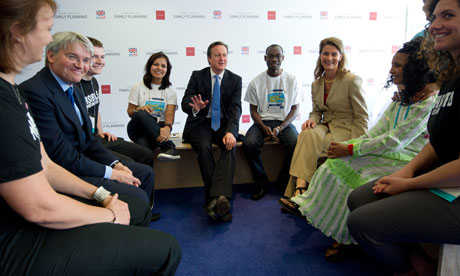 UK Prime Minister David Cameron, Melinda Gates, and UK International Development Secretary Andrew Mitchell speak with advocates at the July 11th London Summit on Family Planning. Photograph: Carl Court/AP .
Emphasis on Women and Children, Integration at XIX International AIDS Conference — The International AIDS Conference (IAC) took place July 22nd – 27th in Washington, D.C. During the Conference, leaders from around the world called for greater attention to women's and children's health in the fight against HIV/AIDS. U.N. officials urged action to turn the tide against the epidemic. Read remarks by UNAIDS Executive Director Michel Sidibé and U.S. Secretary of State Hillary Clinton at the Conference. Read a statement by United Nations Foundation CEO Kathy Calvin calling for increased integration of sexual and reproductive health services and HIV/AIDS programs. Watch the conference video and view tweets from Every Woman Every Child on Twitter for updates and news from the conference.
World Health Organization Issues Call for Nominations to the iERG — The World Health Organization (WHO) is soliciting nominations to the independent Expert Review Group (iERG), a body that was created by the WHO following a recommendation of the UN Commission on Information and Accountability that will operate through 2015. Applications will be accepted through 31 August 2012. Learn more and apply.